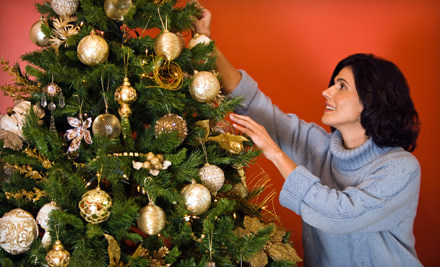 Like an eccentric uncle, the holidays often sneak up on people and leave tinsel wherever they go. Deck the halls with today's Groupon: for $39, you get up to a 10-foot grand fir or douglas fir Christmas tree at Toby's Christmas Trees in Walnut Creek (up to an $80 value).
For 33 years, Toby's Christmas Trees' annual Heather Farm Park location has sprouted fresh-cut, natural trees shipped directly from tree farms in Oregon. Arborists raise douglas firs and grand firs to their prime, pampering each evergreen with eight years of care and daily manicures at their farm. At Toby's, holiday enthusiasts can peruse rows of trees to locate their favorite living-room enhancer, which Toby's crew will then haul to cars and secure with twine for the ride home. If needed, the holiday horticulturists can snip branches from the bough to help fit stands or sleeper sofas.
Groupon Says
The Groupon Guide to: Drink Orders
How can I order a cocktail so that they give me wine?